Lots of Rob's upcoming movies are at the
European Film Market
in Berlin this year. We are hoping for great sales :)
Maps to the Stars

Listed on eOne Film's EFM Line Up (and new still with Sarah Gadon)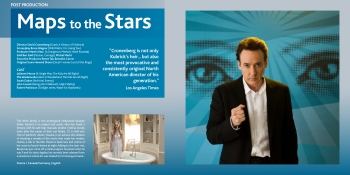 The Rover

Listed on Screen Australia's EFM Line Up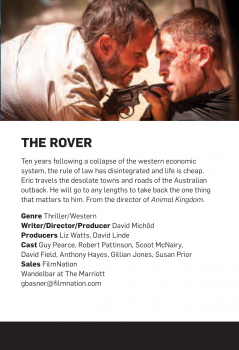 Life

Also listed on Screen Australia's EFM Line Up and as 'The Rover', Filmnation is handling the sales




Queen of the Desert

Variety mentions 'Queen of the Desert' in an EFM article:

Berlin will see a pair of queens up for sale: "Queen of the Desert" repped by Sierra/Affinity with helmer Werner Herzog attached, and Atom Egoyan's "Queen of the Night," being sold by Entertainment One Intl., starring Ryan Reynolds.

Here is 'Queen of the Desert's' page on Sierra/Affinity's site

The Childhood of a Leader

Screendaily mentions 'The Childhood of a Leader' in an article about Protagonist Pictures' movies at EFM:

Protagonist's EFM slate includes anticipated new period dramas Testament of Youth, produced by David Heyman and starring Alicia Vikander, and The Childhood of a Leader, which has Juliette Binoche, Tim Roth and Robert Pattinson attached.

Here is the article on Protagonist Picture's website about handling 'The Childhood of a Leader' international sales

Mission: Blacklist

Listed on Embankment Film's EFM Line Up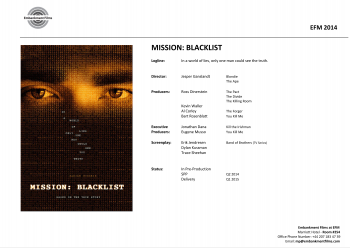 ETA: A few people asked us if Rob is still part of Mission: Blacklist. As we can see on Embankment Film's line up, the promo poster - with Rob's eyes - is still being used. He's also still listed as "preliminary cast" on IMDbPro (screencap below)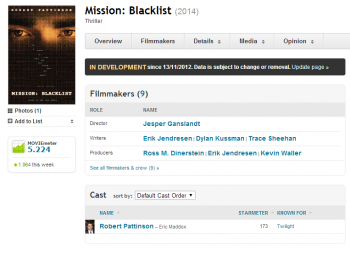 However, Rob's name is not on Embankment Film's page for Mission: Blacklist anymore. An old screencap of the page posted here in 2012 shows that the cast (Rob as Maddox) used to be listed there.

ETA2: Rob's name still can be seen on the "Synopsis" part of the page, only the "cast" section has been removed.

We'll have to wait and see...